So you've seen the fancy dress costume I picked for Kayleigh, now let me share which one I picked Ethan (I love this one!).
With so much princess and pink things over the last few years I could not wait to pick one of the superhero costumes for Ethan.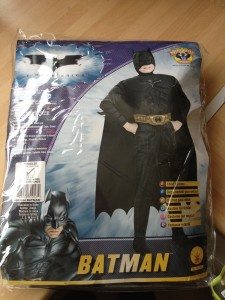 There is a wide range of children's fancy dress outfits to pick from that I'm certain you will find everything you are looking for on there! With the price ranges they have I think it would probably make a great gift for someone too as a little something different to what you would normally get.
When Ethan's Dark Knight Batman costume got delivered to his face lit up. The costume itself looked huge when I got it out of the packet so I was a little concerned it may have swamped him, but when it was on it actually fitted really well. The only thing we did notice was around the wrists there was no give in the material which made it a little awkward to get on and off at times with a wriggly toddler.
The costume itself is in two parts with a mask & cape together then the whole of the body section as one part. I loved the little muscle chest that was part of the outfit. On the feet there is little elastic straps to hold the top of the footing over the shoes or feet, which I thought was a clever idea. It is also done up down the back with velcro which makes it easy to get on and off.
For the £22.99 that this costume costs, it has brought hours of fun & I'm sure plenty more to come! Both Kayleigh and Ethan have wanted to wear it, so it appeals to both sexes too!