We have been set the challenge by Britmums to share what we would spend a nice £20,000 pounds on if we were lucky enough to win it.
Now I'll be honest I would blow the lot on clearing debts and putting some aside for a rainy day or into the kids accounts however if I didn't have my serious head on I would get our garden finished.
If you've read the blog over the last 12 months you would have noticed I am desperate to get our garden finished. I even entered competitions to win a makeover.
However so far I've had no luck!
So I would blow all 20k on our garden and if it stretched I would even get a holiday to recover from the make over after.
Our garden isn't huge in square footage but it has a lot of chalk to clear our so a big chunk of our garden would be used to clear the bottom tier of rubbish out.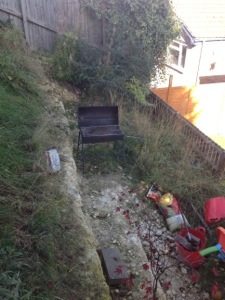 Then I would have the top section decked with flower beds round the top deck to allow us to grow some fruit and veg, saving us money in the long run.
This is where it gets exciting!
From the top deck I want one of these:
Can you imagine how fun this would be, not just for the kids!
I would make the top-tier a great seating area for the family though with a lovely bbq area and somewhere to put our chimenea. From the top of our garden you can actually see over our bungalow and look over parts of our town. In the evening its lovely to watch the sun setting, enjoying the peace.
So there you have it… I would spend 20k on making our garden an outdoor home for us to enjoy for years to come.
This post is an entry for BritMums #Spend20K Challenge sponsored by The National Lottery, with more ways to win more money on the new Lotto game. Find out more about new Lotto, which starts in October, here – www.national-lottery.co.uk .
This post contains affiliate links, which means I may receive a small commission, at no cost to you, if you make a purchase through a link