With the summer holiday here, lots of our readers are looking for fun family activities to do.
Now lots of you have been to the main attractions, soft play and things like bowling. However where do you go that is fun but also a little bit different?
We headed last week to our local Topgolf centre to give their Eat, Drink, Play offer a try out in time for the summer holiday.

The Eat, Drink, Play deal gets you a meal, a drink and 2 games between 3 – 7pm. It is £16 an adult and £10 a child, which before you even get there is a great deal.
I can't remember the last time I picked up a golf club, let alone stepped into Topgolf but so much has changed.
Firstly it's not just somewhere you turn up, play your game and head home.  You can spend hours there making a trip of it!
When you arrive and book in you give them your mobile number, this way if there is not a bay free they send you a link to queue countdown. This allows you to track where you are in the queue and plan your visit. They also text you when your bay is ready for you.
Whilst you are waiting there is so much to do.
There is a bar area where you can relax and get a drink if you are fairly close to the top of the queue or if you are early and want to get something to eat they have a restaurant area where you can sit down.
Along with these two areas there is also the golf shop, a little game area and an outdoor 18 hole crazy golf course.
After we booked our bay, we headed out to give the 18 hole crazy golf a go. Thankfully the sun was out and everyone had a great time.  The course was easy enough for the kids to navigate but still hard! I think it was safe to say I came last!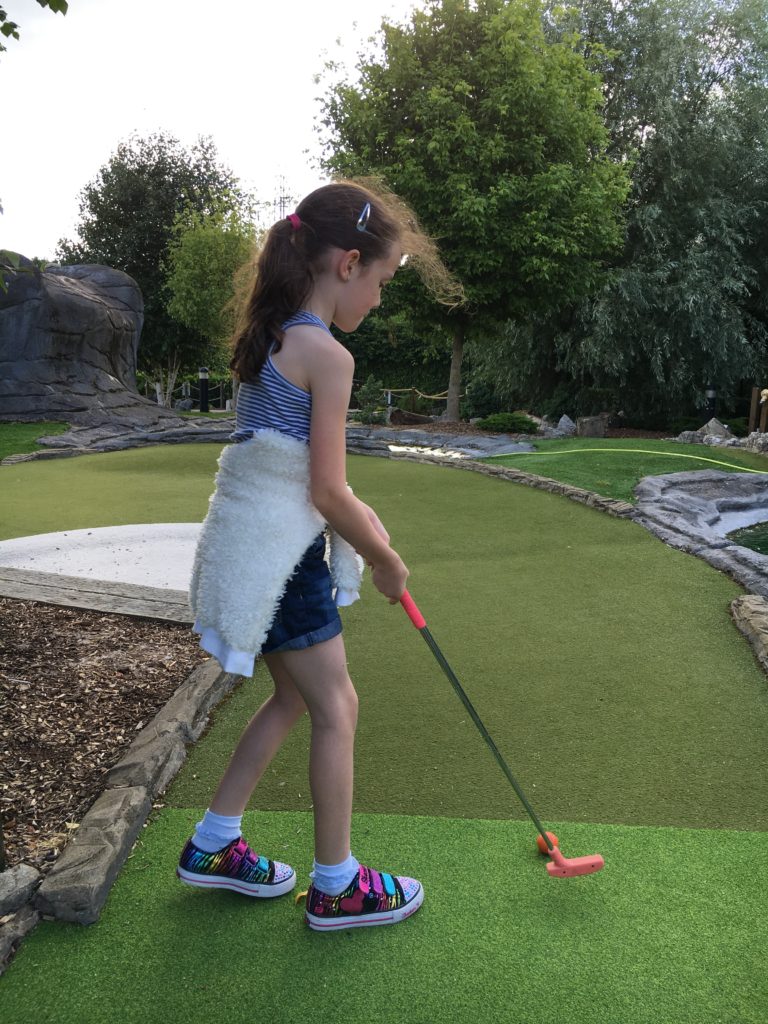 When our bay was ready we headed to front desk to be shown up to our bay.
This is where it gets really clever.
You get a membership card when you arrive (this can be yearly or monthly) and on this your details are registered. This tells the machines your name and how many games you have purchased. On the way to your bay you grab a little basket and put your card in the ball dispensing machine, this then gives you the amount of balls you've paid for.
Then you are ready to get started.
Each bay comes with a table and chairs for up to 5 people so you can relax during the rounds and also they provide clubs for both adults and juniors.

In your area you have a machine which registers the balls being used, who it relates to plus once it has been hit, whether it has hit a target to register points on your own individual computer screen per bay.
The aim of the game is accuracy rather than distance, however to start with my main aim of the game was just to hit the ball! Once you are in your bay there are bay assistants which you can speak to should you have any problems or if you would like to order any food or drink to your bay.
Each game is 20 balls each and 2 games was just the right amount for little ones. The one thing that was recommended to us was to ask for a bay upstairs as we had little ones, this was a good move as it was easy or them to see where the ball had gone.
Our food was brought to our bay and I have to say it was delicious. There was a good choice to pick from for both the kids and the adults, by the time we had finished I was stuffed!

We loved our time at Topgolf and have already made plans with family and friends to visit again as a group. Kayleigh has even asked to return for her birthday, so high praise from her too!