This post may contain Affiliate Links - this just means we may earn a few pence for every purchase made through our links
There is something about the smell of fresh doughnuts cooking, you know the ones at fairs and events that you can smell from miles away.
However, how do you recreate that back at home with minimal fuss?
We have been kindly sent the VonShef 3 in 1 Snack Maker by Domu (available on Amazon currently) to recreate our own doughnuts but also this lets us make waffles and brownies in about 5 minutes too!
It is a compact machine that comes with 3 sets of plates so you can interchange them depending on what you are in the mood for.
One thing I love though is how easy these are to make, once you have your mixture, you simply pop it on to warm up and the little light on the top comes on when it is ready to use.
Then you just pop in the mixture and close the lid and let the magic happen! In about 5 minutes you have tasty snacks.
This video here gives you a great overview of the product.
For £44.99 it is one of my favourite gadgets in the kitchen, I don't think there is anything better than warm deserts.
We've been trying out recipes in doughnut tray for a few weeks now and these are amazing I won't lie. Can you beat fresh doughnuts dipped in nutty chocolate?
This recipe will give you about 21 doughnuts from the machine so you won't be left out trust me.
We used the delicious Jimjams on ours, with 83% less sugar than most other spreads you can have a treat without feeling too bad. Plus it tastes amazing, I can't wait to put an order in for some more and try out their other products too.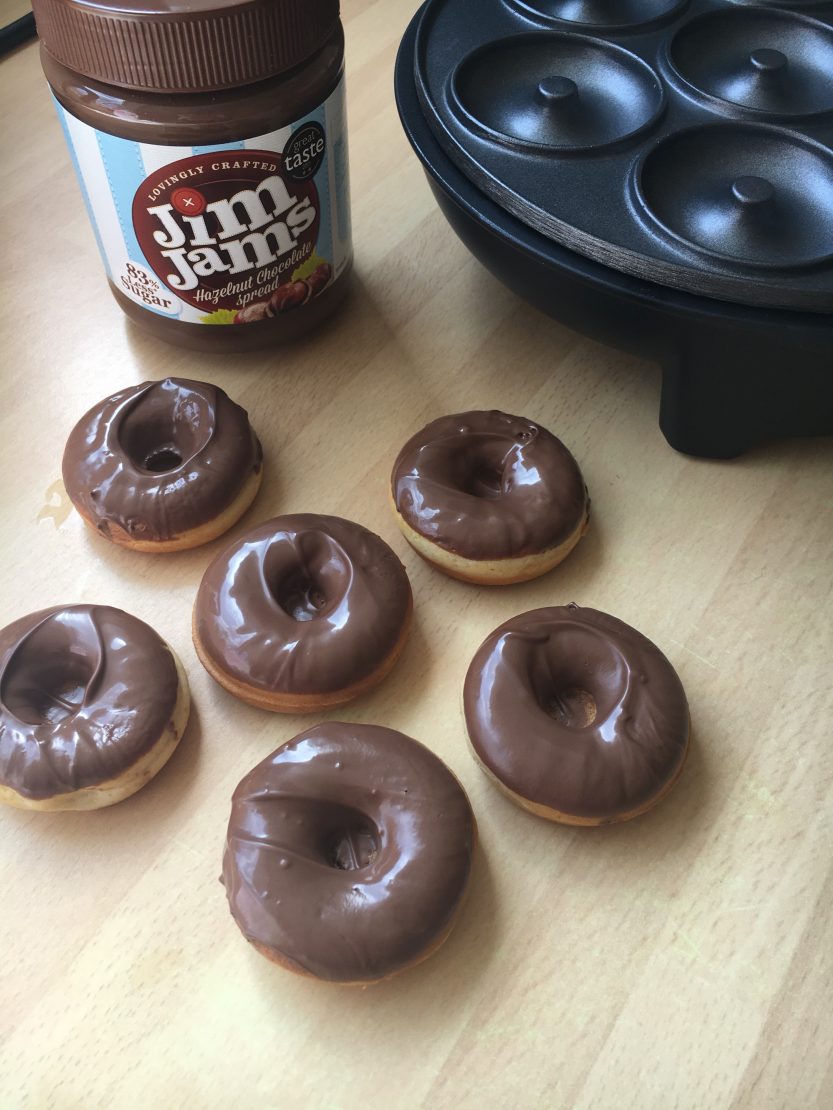 So if you do treat yourself to a doughnut maker, here is how to make some delicious doughnuts in less than 10 minutes at home! If you have no space for a doughnut maker, you can recreate these in the oven using this tray, simply follow the recipe and then pop them in the oven, gas mark 6 until they are golden.
Homemade baked doughnuts in less than 10 minutes!
Ingredients
225g plain flour
100g caster sugar
1 1/2 tsp baking powder
60g melted butter
3/4 cup of milk
1 egg beaten
2 tbs chocolate spread
Instructions
Mix together all the dry ingredients
Make a well in the middle
Add the wet ingredients and mix well until you have a smooth batter
Spoon in the mixture into the doughnut maker, just underneath the lip of the lower tray
Close up and leave to cook for 5 minutes until golden brown
Whilst they are cooking gently warm the chocolate spread
Once the doughnuts are cooked, remove from the maker and dip them in the warm chocolate.
You can leave these too cool (if they last that long!)
If you have enjoyed this sweet recipe, make sure you check out our other delicious recipes here.