We were kindly gifted a new steamer by Kitdget recently to try out and see how we got on as a family using a steamer as a method of cooking.
Now we used to have a steamer years ago and used it a lot to cook our vegetables and fish in there but as children came along and space we had got smaller, we never replaced it when it broke.
Time's are different now though and we have a bit more space to use in our kitchen. We are also looking at ways to cook a little bit healthier as a family too and steaming is a great way to cook and keep all the important flavours and nutrients in your food.
This 25l steamer from Kitdget is huge!  It easily feeds a family of 4 with this one steamer with no problems, in fact, I think it could feed more with no problem.
Firstly this steamer is extremely easy to use and assemble. It comes with the main unit, drip tray, 2 steamer sections and a lid, all of which just pop together really easily. If you are cooking for less you can simply just only put one steamer section on. One great feature of this steamer is the duel heating elements, most steamers have 1 element whereas this has 2 which helps heat up quicker and distribute the heat evenly.
Using this steamer is so simple.
Once assembled you add the water in the bottom main section, at least to the minimum but not more than the maximum that is showing on the front of the base. Pop on the drip tray and then the steamers you need to create your meal.
For us, I decided to cook some smoked haddock with new potatoes and vegetables, all of which could be cooked at the same time. Our fish was still frozen so I allowed a little more time to cook this but I placed it in the bottom steamer tray and then the vegetables and new potatoes on the top tray for about 20 minutes.
Once you have your water in the tray and your food in the steamer sections simply turn the dial at the front to the correct time needed and leave it to do its thing. It really is that simple to use.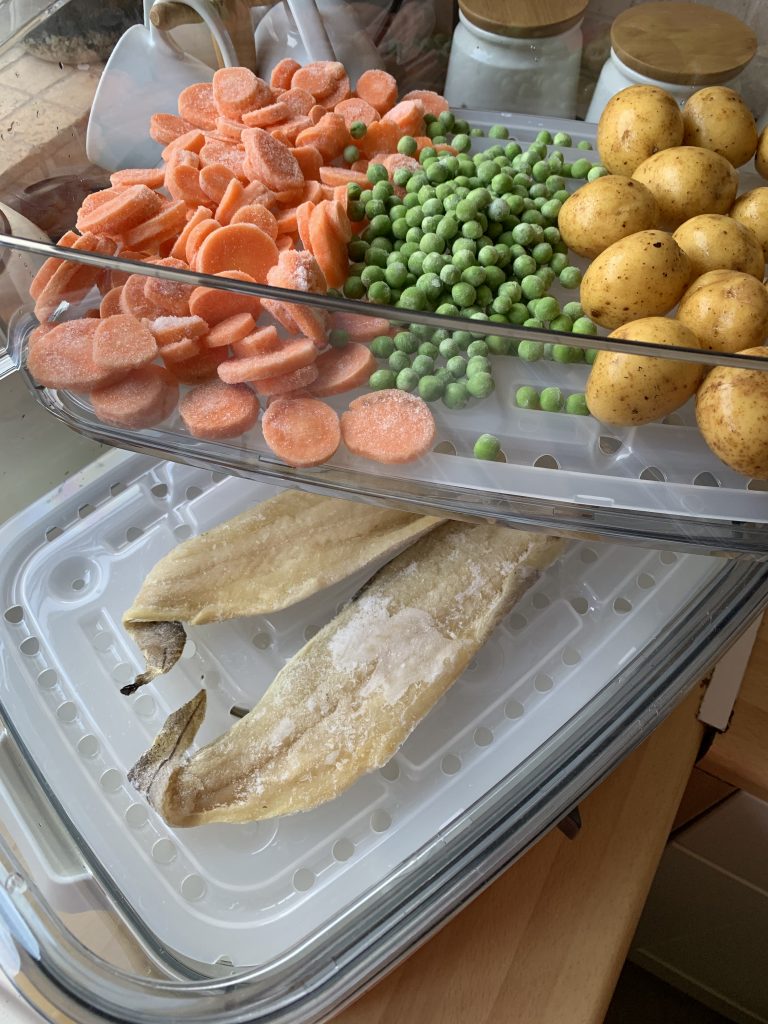 Our dish was super easy to cook and tasted amazing, one of the great things was it was all cooked in the same machine which meant that cleaning up was super easy to do and didn't take very long at all. So, it is easy to use, cooks lots of food simply for everyone and is easy to clean, it is the perfect no-fuss machine for the whole family!
These are now available to buy on Amazon you can also get the smaller 12L one there too should this be a bit too big for you. You can check out more of our reviews here on the blog.
This post contains affiliate links, which means I may receive a small commission, at no cost to you, if you make a purchase through a link