Jump to recipe
Is there anything better than milkshakes, but not any milkshakes, Oreo milkshakes? I don't think so! There is no need to get yourself an individual milkshake blender, this bit of kit will do it all for you. A few weeks back we took delivery of a new kitchen gadget. Now I am a huge fan of kitchen gadgets and this one has jumped to the top of my favourites list as it does everything. I'm going to share our Oreo milkshake recipe shortly, but for now, here is a bit about the Nutri Ninja.
The Nutri Ninja BL682 Blender System, is the new nutri ninja food processor, this bundle has everything you need in the kitchen to make most things!
Nutri Ninja attachments –
1.8L Food Processor Bowl
1.8L Food Processor Bowl Lid
2.1L Blender Pitcher
4 Blade Assembly
6 Blade Assembly
500ml Cup
650ml Cup
Blender Pitcher Lid
2 Ninja Sip and Seal Lids
Pro-Extractor Blades
BL682UK Motor Base

We are just getting to grips with everything the machine can do but let me just give you an idea of the options you can make with this machine :
Smoothies
Milkshakes – Oreo milkshake in this is amazing!
Dips
Purees
Baby Food
Pro Extractor blades make juicing easy
Pizza Dough – more on this in a bit
These are just some of the amazing things you can make in it, all from 1 machine. Alongside the attachments, you also get a recipe book that has some fab-sounding recipes. Later in the week the kids and I are going to be making our own pizza dough from the recipe book. It is not a huge book but it does have some great recipes to get you started including some basic juicing recipes and dips.
The machine has lots of great features such as the auto buttons which allow you to pop everything in and just simply press the button for it to do it all for you! Plus if you remove the blender or pitcher from the base, it auto turns the machine off. As the Nutri Ninja blender has a whole range of uses, the first thing we did make was to make milkshakes.
The heat last week was perfect weather for homemade milkshakes so we popped on the blender pitcher and got started. This was my first ever go at making a homemade milkshake and our first Nutri ninja milkshake! This Ninja blender milkshake recipe is super simple but so tasty.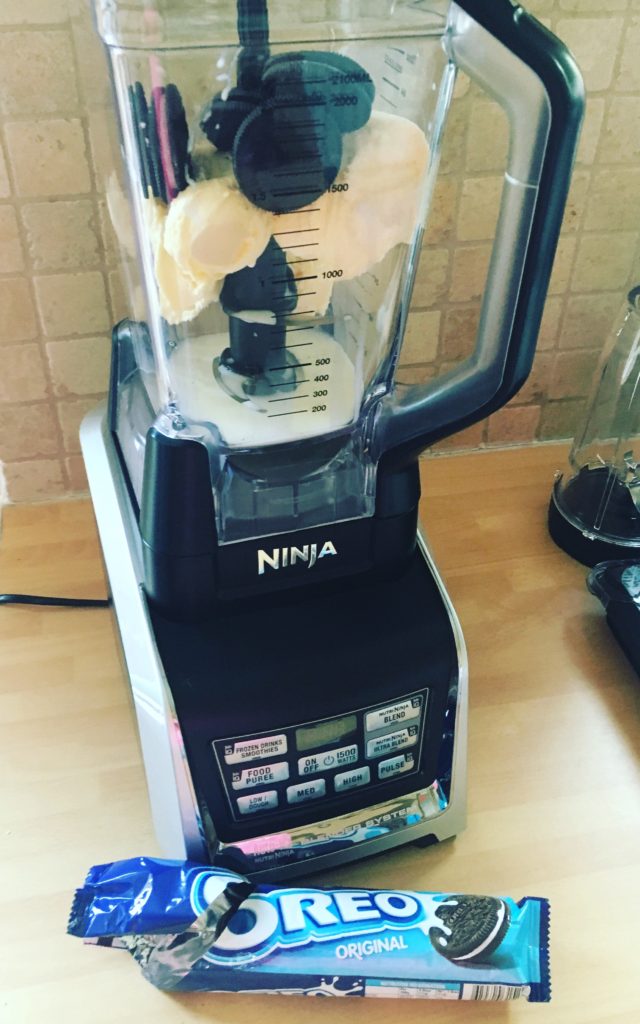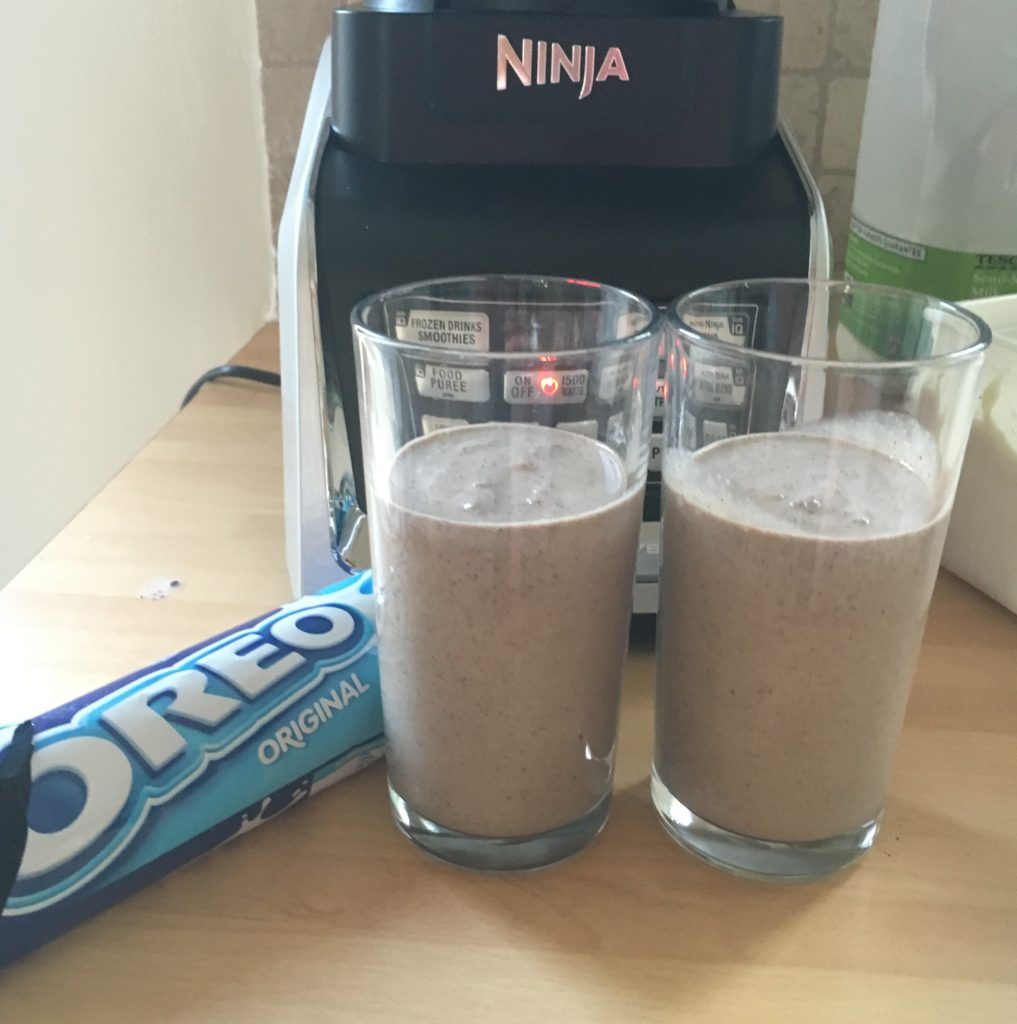 With this machine, everything is simple to pop on and off which makes it very interchangeable with little stress. The only warning I will give you is the blades are really sharp (yes I cut myself on the first day!) however this makes it perfect for crushing ice in your cocktails or smoothies! Making milkshakes in a Ninja blender is quick and easy, just pop it all in and away you go. It also means there is minimal effort when it comes to cleaning too. With everything being done in the one machine, you only have this to clean, if you are unsure how to clean it though, here is a great life hack.

Nutri Ninja cleaning hack
Now, this hack is so simple but it never even crossed my mind! You know those really sharp blades which you try to avoid touching just in case, but they always seem to have a little bit of food or drink stuck to them.
Simply pop in a little warm water and washing up liquid in the machine, then set it up ready to use like you just did whilst making the milkshake. Once it is ready, give it a quick blitz for 30 seconds then all you need to do is rinse it and leave it to dry. The machine does all the work and you are less likely to cut yourself.
Once I saw this, I realised I had been cleaning it wrong all this time! Anyway, lets get back to how to make a milkshake.
Oreo milkshake recipe
Ingredients
5 Oreo biscuits
5 scoops of vanilla ice cream
Milk
Instructions
Pour in milk to the 8oz marker on the blender
Add the ice cream and biscuits
Press the frozen drinks/smoothie button then wait for it to finish
Pour and enjoy
We loved our Oreo milkshake, but also the strawberry milkshake we made. Which one would be your favourite?
Can you make milkshake in your NutriBullet?
Although I have made this recipe in the blender system, you can make this in a NutriBullet exactly the same way with no issues at all. It is in fact easier to make it in the NutriBullet as you are able to change up the lids and head out the door if you need to, saving on washing up!
Milkshake ideas for a NutriBullet
If you have given this recipe a go and are wondering what other recipes to try out, here are some of our favourite suggestions. Don't forget you can mix it up a little too by changing out the ice cream flavour!
Lotus biscoff milkshake
Strawberry Milkshake
Jaffa cake milkshake
White chocolate milkshake
I look forward to seeing what else we can make as we use our machine and make sure you pop back as we share more drinks and food recipes with you.
This post contains affiliate links, which means I may receive a small commission, at no cost to you, if you make a purchase through a link