with Welcome back to this weeks meal plan, another week down already!
We have stuck pretty much to our meal plan whilst we are still on Slimming World and so far it has been going well. I don't find it too hard to follow and we have got into a rhythm with our snacking. However, I won't lie, I miss my sweet binges! It is getting better though and becoming the new norm, plus I can't wait to be able to fit into my clothes properly again.
This week's meal plan is super easy but we are trying out some new dishes to see how we get on. The kids have not enjoyed all the meals but I will keep ploughing on.
Our meal plan – 19/04/21
Monday –
Bacon, eggs and beans – I love this as it is free food when you cut the fat off the bacon. The kids are returning to Scouts this week and this is a quick meal around that.
Tuesday –
Teriyaki salmon – This is a new recipe for us to try out, hopefully, it is a hit!
Wednesday –
Chilli con Carne – Already batch cooked this, so dinner is easy tonight.
Thursday –
Carbonara with mushrooms – I've never made a carbonara without using a packet mix, hoping this turns out ok.
Friday –
Takeaway – Friday nights are family time, we still enjoy a takeaway and a movie.
Saturday –
Chicken chow mein – I made this a few weeks ago and it was delicious.
Sunday –
Beef stroganoff – We've never tried this before, but it looks really good.
As you can see, even on Slimming World, we don't go without! I've found the switch over pretty simple apart from the snacking, so I'm hoping this makes it easier for me to stick to. Other than the takeaway, this weeks meal plan is Slimming World Friendly, with most of the meals syn free.
If you are after some more inspiration you can check our previous weekly meal plan here. Alternatively, why not check out our Pinterest boards here for more inspiration. If you have a family favourite, even the fussiest of eaters will eat, please share it in the comments below for a little inspiration!
I have been meal planning for a while now and am always after inspiration, so I've created the linky below for you to share your meal plan weekly. This way I can find other great meal plans and our readers can look for more inspiration too!
You are invited to the Inlinkz link party!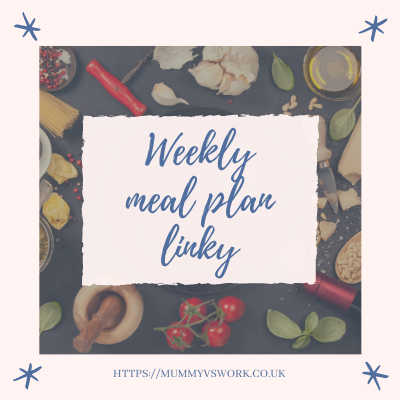 This post contains affiliate links, which means I may receive a small commission, at no cost to you, if you make a purchase through a link