Dear Ethan,
Here we are again with another birthday letter and it is the day you turn 13, wow a teenager.
How can we be at this point where you become a teenager already, it seems like just a minute ago that I was writing a letter for your 3rd birthday! The time is just flying by in the blink of an eye and before we know it you will be doing your GCSEs and heading off to college, uni or work.
There have been lots of changes this year, the main one being the fact I think you may be sleeping in a grow bag at night as you are already 5ft 6 and size 8 feet! You take great pleasure in measuring yourself up to the shorter adults in the family. It happened quite quickly, especially after the summer holiday and we had brought new uniforms, by the October half term, they were all too short. You have also gone through 3 pairs of school shoes this year, I have no idea what you are doing to them.
School is just school for you, there is minimal fuss and you just get on with whatever is coming your way. Your latest reports and parents' evenings have all been good and you are on track for good grades, you just need to remember to stop talking to your friends when you are finished and waiting for the next bit!
Your main passion is still your gaming, however, you are starting to get more involved in football, the last game being the play-off final at Wembley which you loved. Let's hope we can get some tickets this year to go watch Luton play in the Premier League.
Just keep being you, try hard at what you do and keep going. Make sure you keep that head on your shoulders and trust your gut, you are a smart boy and know the difference between right to wrong, don't let anyone tell you otherwise.
Lots of love
Mummy, Daddy & Kayleigh
PS – I feel as though time is going too quickly and need it to stop! I plan to capture all your birthdays through the years and create a photo book for your 18th!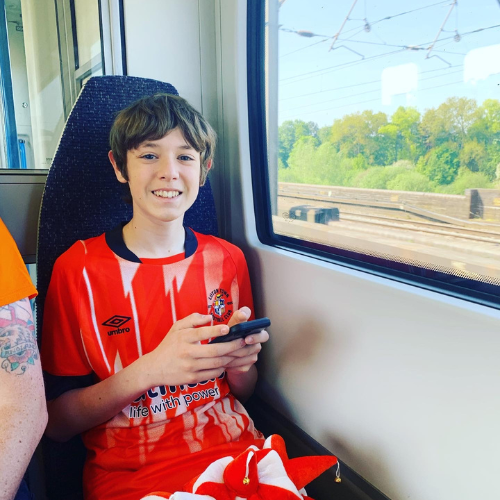 This post contains affiliate links, which means I may receive a small commission, at no cost to you, if you make a purchase through a link