Jump to recipe
#Ad – this post is in collaboration with Opies – it is also my entry into their food bloggers competition
Good morning and welcome back to another cooking challenge from Opies. This time we were tasked with coming up with a recipe that included their pickled walnut range.
Last time I made a drunken peach cobbler recipe, which turned out to be delicious. We have had that dessert quite a few times since we created that recipe and it has fast become a family favourite. This time though the recipe was a little bit tougher.
Firstly I am not a huge fan of nuts, don't hate them as such, just prefer not to eat them. Then on top of that, I had never tried a pickled walnut in my life!
After a little bit of research, it was clear to see that they are well suited to cheese and cold meats however it also became apparent they were perfect for beef dishes. With this in mind, I looked to create a dish that would suit our family but also incorporate the pickled walnuts where they stood out.
Then came the idea of a pasty, I love pasties, they are so delicious yet so versatile in what you can do with them. The pickle juices from the walnuts soak into the pastry bottom giving you a juicy pickled pastry, they are just delicious! So here are my delicious steak and pickled walnut pasties, using Opies pickled walnuts.
Steak and pickled walnut pasties
Serving Size
3 large or 4 small pasties
Prep Time
1 hour, 30 minutes
Ingredients
Pastry
450g plain flour
2 tsp baking powder
2 tsp salt
120g unsalted butter
2 egg yolk
120ml water
Filling
100g carrot - finely chopped
300g potatoes - peeled and small cubes
100g onion - finely chopped
250g steak (I used rump) - cut into small pieces
2 Opies pickled walnut - sliced and halved
Salt and pepper
1 egg beaten for glazing
Instructions
Making the pastry
Pop the flour, salt, butter, baking powder and egg yolk into a food processor and blitz until the ingredients resembles breadcrumbs
Pour this into a bowl and gradually add the water, a tablespoon at a time, mixing until the mixture comes together into a dough. At this point you may not have used all the water.
Roll the dough into a ball, wrap in clingfilm and place in the fridge for about an hour.
Assembling your pasties
Pre-heat your oven to 180c/Gas 4
Add the chopped carrots and potatoes into a pan of boiling salted water and cook for 4-5 minutes until tender, drain and refresh in cold water then set aside
Roll your chilled pastry out on a floured work surface
Using a side plate for size, cut a disc
Place the onions down the middle of the disc, leaving space to brush the edge with egg
Add the steak, then the pickled walnuts, potatoes and carrots
Season with salt and pepper
Brush the edge of the pastry with the beaten egg
Fold the pastry over and crimp the edges together with your fingers
Using a knife make a small hole in the top of the pastry and brush with beaten egg
Place all the pasties onto a baking tray and bake in the oven for 25-30 minutes or until golden brown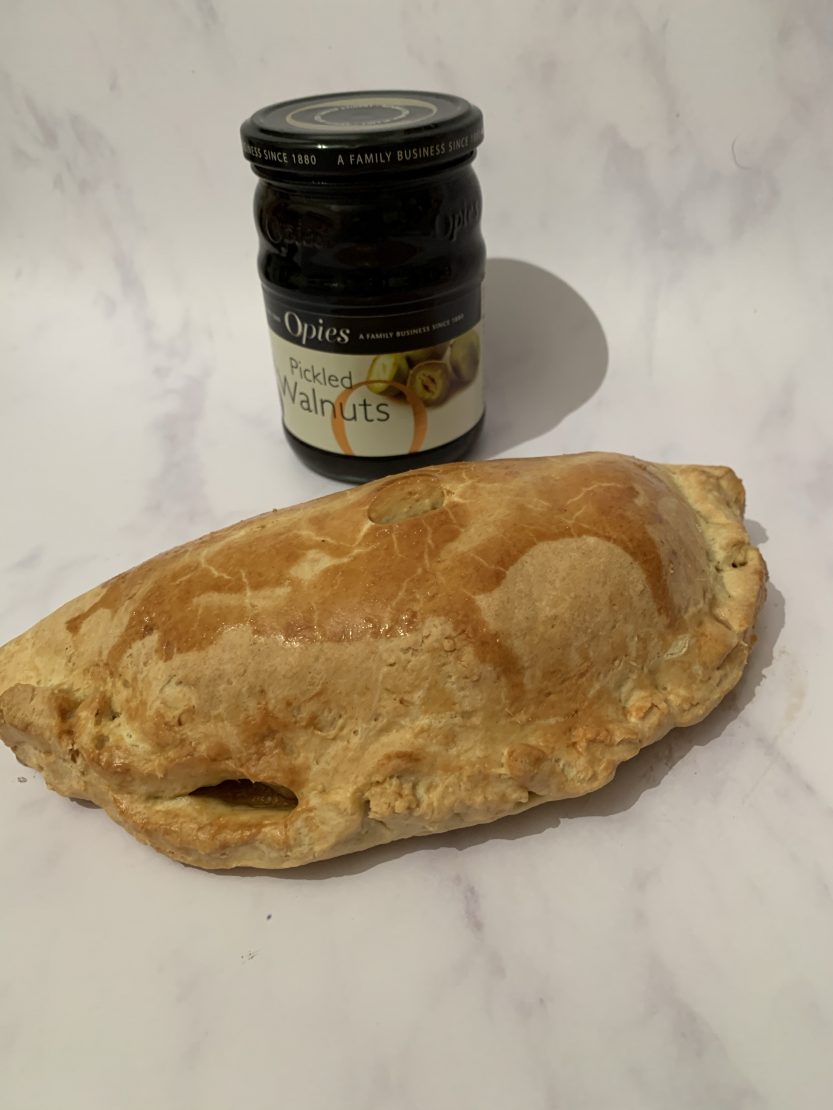 These were a little on the rustic side and maybe I rolled my pastry a little too thick, however, they were amazing. They had the perfect mix of meat and veg with this little vinegar taste throughout from the walnuts. They are one that I am going to make again and make extra so I can have them for lunch the next day too!
One great thing about these is all ingredients can be brought at your local supermarket, including the Opies pickled walnuts.
This post contains affiliate links, which means I may receive a small commission, at no cost to you, if you make a purchase through a link